Overall Rating: 69
Lynch
Serniak
Lynch's Rating: 34 out of 50
Environment: 9
I feel like I've been hearing a lot about Market Street Bar & Grill within the last couple months from a number of people. I honestly have no clue how new it is so maybe that's a factor. Regardless, Serniak decided we should check it out for wings even though they don't have a wing night. As soon as you enter you'll notice a long bar with a number of high tables along it. We were seated in the dining room, which has plenty of additional seating. The seats along the bar were pretty empty when we entered, but many of the tables were filled up. This was also true with the dining room. I got more of a restaurant vibe from the place than a bar. The menu was split between some classed-up bar options and legit dining options. In fact, their specials were real-deal dinner options that would have been very tempting if we weren't there for wings. Our waitress was super nice and was giving us some recommendations for wings when we sounded a bit unsure or if we had questions. The service was really fast, too. It didn't take long at all to receive our wings.
Wing Size: 6
The wings at Market Street are smoked, which means they aren't shrunk down by extensive deep frying. Even though they are smoked, they did have a nice, crispy outside for the most part. I'm not sure if they do a flash fry situation or grill them on high heat, but they were a meaty, yet crispy wing. While Market Street serves some pretty large wings, they do not offer a wing night. So expect to pay roughly $1 a wing.
Wing Flavors: 7
Market Street offers a decent selection of wing flavors with some pretty unique flavors. Every wing that Market Street serves comes smoked with your choice of a sauce. The only standard options they provide are Buffalo and Classic BBQ. From there, they like to mix it up with some cool flavors like Korean Sweet Chili Garlic and Sriracha Maple.
Wing Taste (x2): 6
The wings at Market Street were a mixed bag of flavor. Since every wing is smoked, you get that underlying smokiness in any sauce you order. Don't get me wrong, I am a huge fan of smoked meat, but with these wings, I feel as though it took away from the sauce. It made all the wings taste very similar, especially since there wasn't much sauce on the wings. The Buffalo was a thinner buffalo sauce with a hint of spice. If you don't like your buffalo wings saucy, these are the wings for you. I will say that they were cooked perfectly. The wings were pretty meaty while having a very crispy skin. The second wing I got was the bacon wrapped wing with Sriracha Maple sauce. The wings were fully wrapped in bacon and the bacon wasn't rubbery or soggy at all. I liked the maple flavor with the bacon. It worked really well with these wings. I was left wishing for a bit more spice of the Sriracha though as it was barely noticeable. Again, I wish the wing had more of the sauce though.
Serniak's Rating: 35 out of 50
Environment: 8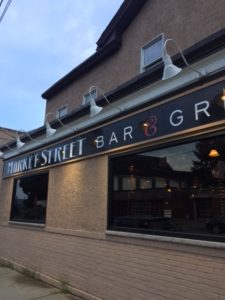 Market St. Bar & Grill, which believe it or not is located on Market St. in Scranton, has been one of those places that many good people on both sides have told me I had to get too. Trust the people, and they'll steer you in the right direction and since we're the people's Wing Men, we obliged. Market St. was a real good suggestion. It's the kind of place that gives off the vibe of a great place to go after work, meet up with your posse, vent about your boss and weird coworkers while also openly planning what 5K everyone was going to do next. A comment I made was that Market St. Bar & Grill was this sides of Scranton's Ale Mary's, or Ale Mary's is that side of Scranton's Market St. Bar & Grill. It's a very clean place with a lot of wood that gives the feeling like you're in an Irish bar. Don't know why I associate wood with Irish bars, but I do. I'm okay with that. People were in a good mood and having a good time, so the atmosphere was a pleasant one. We sat in the dinning area on the other side of the bar. There are about 8 tables in the dinning area and a big TV for you to watch The Wheel and Jeopardy on. A feature that really caught my eye was that they had a beautiful red ceiling. I was mesmerized by it as if I was gazing into the eyes of Vego the Carpathian. Fortunately, I didn't get possessed and was still able to enjoy the wings and the ceiling. Our server was nice and helped us on explaining some of their wing flavors.
Wing Size: 6
6 isn't the best score to get but that's because Market St. doesn't have a wing night. It doesn't bother me, but to give an accurate rating it's something that has to be accounted for. Wings are 10 for $9.95 and $10.95 for bacon wrapped wings. Any flavor could be bacon wrapped. The wings themselves are a pretty good size. They actually were on the larger size. Get your regular order and you'll easily be full with possibly a few wings to spare.
Wing Flavors: 7
10 total wing flavors can be had at Market St. Bar & Grill. They get a 7 not for amount of flavors but because of uniqueness of flavors. For starters, all their wings are smoked. That's unlike just about every other wing joint we've encountered. Also, you can get any wing wrapped in bacon. Not much more I have to say about that. By now, you should understand the power that bacon brings to every meal and if you don't I pity you. Some flavors they have is their house sauce, which is covered in a Gorgonzola lime dressing, Korean sweet chili, sriracha maple. sesame soy mustard, mango sweet chili and everything seasoned honey dijon. That's a pretty solid array of flavors. They did a fine job touching all the taste buds with this list.
Wing Taste (x2): 7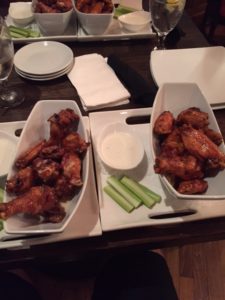 Since you can't order in orders of 5, Lynch and I split 40 wings and 4 different flavors. The flavors we got were Buffalo, mango sweet chili, everything honey dijon and sriracha maple wrapped in bacon. One thing that needs to be said about all of these wings is that they were cooked very well, but since they are all smoked wings, the smokiness flavor was the most noticeable aspect of each wing.The smokiness is a nice flavor but every bite is surrounded by smokiness.The smokiness is even more prevalent than the sauces, which can be alleviated by just adding more sauce. If you're into in your face, consistent smoky flavor, you'll go nuts here. Now that that's out of the way, lets get at it.The Buffalo were good but could have used more sauce.Though they were smoked, Lynch and I pontificated that perhaps the wings were also baked because with the buffalo it seemed like the sauce Melded into the meat itself. I know that probably can't be the case and that I just showed off my ignorance when it comes to the art of smoking, but I stand by what I said. Next up were the mango sweet chili. These were more mango than chili. The sweetness of the mango was true but there wasn't much in terms of chili happening here. Moving on to the maple sriracha that were bacon wrapped, which were a suggestion from our server. The bacon wrapped around the wing went well with the mapleness of the wing, but like the mango sweet chili, I could of used more sriracha sauce. Now sriracha is a fickle sauce that you can easily put to much on and cause an unpleasant overpowering. Still, I could of used a pinch more here. Finally, the best wing I had was the everything honey dijon. These were the Bell of the ball. The honey dijon was on point and was very creamy. It had sweet infused with the mustard that was great then they were topped with everything seasoning like you would get if you ordered an everything bagel. Very clever idea and a very delicious sauce.