Overall Rating: 77
Lynch
Serniak
Lynch's Rating: 38 out of 50
Environment: 9
It has been years since the Wing Men made a trip to The Moontower Lounge in Archbald, so we figured it was about time we pay them a visit. The place now sports an outdoor, roped-off patio section, essentially in the parking lot. There's also a small covered, outdoor patio with a couple tables and a TV if you want to watch something while enjoying the great outdoors. Since it's been raining pretty much every day this summer, we opted to sit at the bar inside. The place is large inside, with plenty of dining tables and a long, L-shaped bar. The place is definitely more up to date than the old Starlight Lounge days.  There are a lot of TVs above the bar, so it seems like a decent place to hang out and watch a game. The bartenders were pretty cool and friendly, but I believe they are familiar with Serniak, so that may have helped out cause. It didn't take long at all to get our wings, even with the amount and variety that we got. We were able to split our wings into orders of 5, which made it great for trying a bunch of different flavors. The bartenders seem open to changing a channel on one of the TVs if you ask. So, let's say you wanted to watch Wheel of Fortune, much like we did while we ate our wings, just ask and they will turn it on. Nothing goes together better than Hot Wings and Wheel of Fortune. Fact.
Wing Size: 7
Moontower charges 50 cents a wing on their wing night, which is pretty good since prices have been trending higher than that. In fact, that's the price they were when we visited years ago, so the fact that they haven't upped their wing prices is pretty awesome. I think their strategy though was to decrease the wing size while keeping the same price. They were a bit below average for wing size, so you'll have no problem polishing off your usual order.
Wing Flavors: 8
The amount of flavors had more than doubled since our first visit to Moontower. They have greatly increased the options mixed with their Hot and Mild, added a couple more dry rubs, and expanded their BBQ selection. I am also a fan of how they had the different sauce options divided on the menu between Spicy, Mild, Tangy, and Dry Rub. Moontower also has some flavors I haven't seen anywhere else, such as the Bangin' Bacon Dijon and the Sriracha Dry Rub.
Wing Taste (x2): 7
Overall, I was a fan of the way the wings were cooked. They had a nice, crispy skin with a decently juicy meat. We had plenty of flavors to go around, so I ordered 4 different ones to get a bunch of variety. The traditional Hot had a darker red sauce with a decent level of spice, but definitely not overwhelming. If you're a plain Hot person, these should get the job done for you. The Hot Caesar Garlic parm were interesting. Using the Hot sauce base, Moontower tosses in some Caesar, Garlic, and parm to round out the flavor. All the flavors were there, but definitely not in your face like some other places. It helps to mellow out the spice from the Hot. I liked these wings quite a bit. Another really good one was the Bangin' Bacon Dijon. It definitely lived up the the tangy category, with a good Dijon flavor and a hint of bacon. These were probably my favorite of the bunch. Finally, I tried the Porketta dry rub. As usual with a dry rub, I definitely got that Porketta seasoning flavor, but I was left wishing the flavor was amped up. It was more a fried wing with a slight taste of Porketta.
Serniak's Rating: 39 out of 50
Environment: 8
ALRIGHT ALRIGHT ALRIGHT. Sorry not sorry, but I'm contractually obligated to start each section of this blog with that. Also, even if I wasn't forced to begin each section with that, I would instinctualy do it because it's the right thing to do when you're covering the Moontower. You may not exactly find a party at the Moontower but what you will find is a bar and grill that delivers terrific food brought to you by some of the most courteous and easy going guys in the area. Classic salt of the Earth fellows here. That's the vibe I get from the Moontower. That it's all about relaxing and chilling out when the work day is over, or when the weekend is in full swing. There's no loud noises due to games being played, nothing to fancy spread around the joint that will distract you. It's a straight up, old school bar that is loaded with grit. Don't let that word grit make you think the place is a dive. Grit is one of the greatest compliments I can call someone or something. The place is highly clean, is equipped with TVs, which we utilized to watch The Wheel or I suppose you can view sporting matches if that's what you're in too, and has seating at the bar or at the tables that are inside. They also have outdoor eating but you better get on that now because fall is upon us. The service is what made The Moontower get an 8 as to a 7. Rob was our server and bantered with us and gave top notch recommendations on what flavors we should get while also tending to our drinks in a timely manner. The service was so relaxing that I felt very comfortable.
Wing Size: 8
ALRIGHT ALRIGHT ALRIGHT. I honestly think the wing size at The Moontower may possibly be the perfect size wing. As a younger man, I was like Texas and thought bigger was better. Now as a wiser man, with experience for days, I have shifted my thinking to crave just a bit smaller than your gigantic wings that we get at some places, even some of our favorite places. I'm not going to knock places that have huge, massive wings. I just have deeply reflected on the thought of what size of wing is my favorite and the size of the wings at The Moontower are on point. The Moontower wing size are not tiny by any means, but they're aren't as an even wiser man I know says "pterodactyl" size either. I realize that this decision of mine is going to change how I rate wings for this category going forward, but I'm fully up for this new outlook on wing life. Also, they're 50 cents a wing on their wing night, which is on Wednesdays. It's nice to see a place that still has 50 cent wing nights. Not a ton of places do that due to the price of wings being higher than Slater on the last day of school or any day for that matter.
Wing Flavors: 7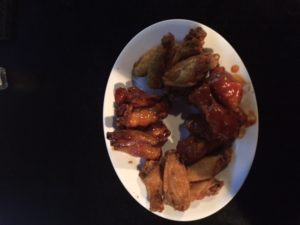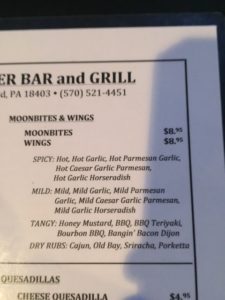 ALRIGHT ALRIGHT ALRIGHT. 19 flavors seems like a really large amount of flavors. Seems like a really good deal. Kinda like just taking 1 lick each from Obannion, Benny and Pink(I know, right. Didn't think Pink was about that hazing life but he was there) rather than being on the run for the entire Summer constantly looking over your shoulder. You see 19 flavors and you're like "whoa", but then you delve a little deeper into them and you can see some slight variations thus netting 19 total flavors. The Moontower has all the standbys such as hot, mild, BBQ and honey mustard. But then they add garlic and then add garlic parm and then garlic parm caesar to each of the hot and mild wings thus increasing their wing amount. This isn't the first time we've encountered this and it won't be the last time. I'm not even saying it's a bad thing. I'd do the same thing if I had a place. I'd increase my flavor amount by just adding one ingredient as well. It's just a smart thing to do. It's just a real thing that is happening. Where The Moontower strikes gold with me is when they incorporate horseradish in their sauces. I'm a sucker for horseradish. It's quite possibly my favorite in the wing world(don't tell sriracha). They also have a unique one called Bangin Bacon Dijon while also having porketta, old bay, sriracha and cajun dry rubs. It's a solid list of flavors that could be expanded on with use of ranch and blue cheese mixes. Everyone loves those every time.
PS- I would gladly take the 3 total licks instead of constantly living in my own shadow my whole Summer.
Wing Taste (x2): 8
ALRIGHT ALRIGHT ALRIGHT. First things first, you can split the orders into orders of 5 so you can get 4 different flavors if you order 20. Also, the wings at The Moontower were cooked very well. They had a nice crisp in every bite. Lets start off with the BBQ Bourbon.Typically, I'm not a BBQ guy when it comes to wings, but our server Rob laid out a fine pitch so we went with them. The sauce was a nice thin and sticky sauce which I prefer with BBQ as compared to the thick sauce you would get on maybe ribs. They had the sweet and tangyness from the BBQ but also had the smokiness form Bourbon. That was the difference maker for me. I realize that BBQ Bourbon isn't wildly unique or anything, but this version hit the spot and wasn't to powerful. Next, I had the old bay dry rub. They were exactly what you'd think an old bay dry rub would be. The old bay was judicially dispersed throughout the wing.  Not to much seasoning or to less. Just the right amount. Actually, I'd love to see what The Moontower could do in regards to adding a little butter to the old bay. I know that may not make them a true dry rub, but I'm selfish and I want it to happen. I then had another dry rub and that were the Cajun. Years ago, the Cajun were the bell at the ball at the Moontower. Years later, they're still delivering fantastic flavor. A zesty coating of the bayou is what you get in every bite. Not to spicy or anything, just a high amount of flavor. Lastly, the top priority of your visit to The Moontower need to be the hot garlic horseradish. Their regular hot are solid enough but when you add garlic and horseradish, then you have something special, something to be proud of. The horseradish is subtle so don't be afraid. Mixed with the hot and garlic, the horse radish is evenly distributed. If Isaac Newton was making one of his observations, he'd say that this sauce was loaded with high octane flavors. Just a splendid flavor that is a must get.